Dr. Zach Hershberger
PT, DPT, Physical Therapist
I grew up both in Kansas City and a little country in Eastern Europe, Bulgaria. I went to college and played football at Taylor University in Upland, IN before starting graduate school at Missouri State University in Springfield, MO. I worked at EXOS for 2 years, which specializes in the treatment of high-level athletes, along with normal outpatient musculoskeletal pathologies.
Family, altruism, sustainability, integrity, dependability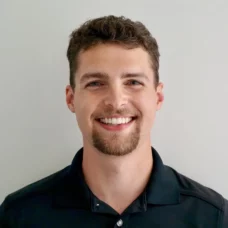 I specialize in the rehabilitation of musculoskeletal post-surgical procedures and non-surgical treatment methods. I specifically enjoy helping those with shoulder or knee pathology.
I enjoy working at HillPro-Motion because of the environment my coworkers and patients provide, and integrating myself within the Lee's Summit community.
When I'm not working I enjoy spending time with my wife and kids, homesteading, watching the Chiefs, and playing golf.

"Dear Dr. Hershberger: I wanted to take a moment to thank you for your professional and dedicated treatment of selected physical therapy exercises that helped me so much regain confidence and strength in the area of my right shoulder rotator cuff. I'll have to admit when I had a fall and partially landed on my shoulder, it quickly limited my forward and side movements of my arm. I was very concerned about not being able to regain enough strength in that area to perform routine, daily movements. I did not want to have another rotator cuff surgery as I remembered how long the recovery and healing took on my first one. I appreciate the knowledge and information you shared with me during the work sessions as well as the encouragement you gave me to continue specific exercises at home. Overall, I am pleased with the results. Your dedication, commitment and effort to your professional career of helping others certainly bring credit to your chosen field of work, Hill Pro-Motion, and yourself."

"After a shoulder injury snow skiing last January, it appeared I might have to have surgery. However, the surgeon referred me over to Hill Pro-Motion Physical Therapy for 30 days first to see if there was improvement. I met with Dr. Zach Hershberger several times a week over 40 days. He was great to work with and I managed to make progress and avoid surgery and regain strength. I recommend them highly."

"My time with Hill Pro-Motion not only helped me, but they also made it very enjoyable getting well! A big thank you to Dr. Zach Hershberger for helping me to get my strength back after my knee replacement. The whole team is very upbeat and caring. It's an amazing environment with an incredible skilled staff. Dr. Zach Hershberger is very knowledgeable and caring, and I would definitely recommend him for any rehabilitation."