Darren McConnaughhay
PTA, ST, Physical Therapist Assistant
I was born and raised in Belton, MO and am one of four children. I have had a long career in various trades, however most notably in the United States Marine Corps, and in my service medically as a surgical assistant for orthopedic and neurosurgical cases.
In 2001, I completed Surgical Technologist training through Health Midwest's program, which began a career in surgery for over 20 years assisting in specialties such as, orthopedics, neuro/spine, general, and plastics. I continue to work in surgery part-time assisting in orthopedics at University Health Lakewood.
In 2019, I was motivated to serve on the other side of surgery. I decided to return to school, and in 2021 and received an A.A.S. as a physical therapy assistant. I enjoy helping patients through surgery, as well as assisting them in their rehabilitation journey, so they can return to doing things they were not able to do before surgery.
My surgical background offers a unique advantage in helping clients through their treatment process as I know the intricacies of surgical care.
Honor, Courage, Commitment. If you are nice to me, I will be nice to you.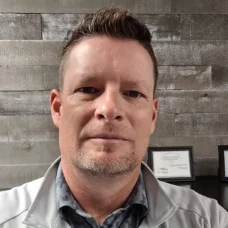 "To fail is normal, you are only a failure when you give up."
I provide patients with an educational insight into the anatomy and physiology of what is causing their pain. My goal is to help with anything that is causing pain or lack of function. 
I enjoy working here at Hill Pro-Motion because of my co-workers and the team dynamic. 
What's Darren Reading, Listening To, or Watching?
Tombstone (Movie)

Open Range (Movie)

13 Hours (

Movie

) 
In my free time, I am playing golf, ice hockey, hunting, and fishing as well as spending time with family.