Annie Steil
Patient Coordinator
I grew up in Greenwood and Lee's Summit and have worked in customer service and the office setting for 25 years!
My Famly, God, Health, Fitness, Growth, Living life to it's fullest, Smiling, Laughing, Kindness, Generosity, Being Humble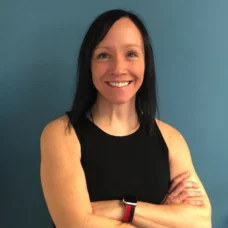 "You're not going to master the rest of your life in one day. Just relax. Master the day. Then just keep doing that everyday."
I am responsible for taking care of patients' accounts and sometimes the patients themselves. I want to help patients with all the mental health that goes with not being able to function on a normal basis daily. 
I enjoy working at Hill Pro-Motion because it gives me the hours to take care of my family, truly love my coworkers, and love making patients feel seen and heard. 
What's Annie Reading, Listening To, or Watching?
John Wick (Movie)

Aubrey Marcus (Podcast)
In my free time, I enjoy spending time with family, hiking, working out, relaxing and doing home projects.